Bicycle Accident Attorneys in Luzerne County
Serving Clients throughout Schuylkill & Carbon Counties since 1999
Federal statistics from the National Highway Traffic Safety Administration (NHTSA) and the Centers for Disease Control (CDC) report that more than 450,000 bicycle accidents each year cause thousands of injuries and nearly 800 deaths.
The Luzerne County bicycle accident lawyers at Slusser Law Firm have more than 170 years of combined experience representing injured clients across Eastern Pennsylvania.
If you or a loved one was injured in a bicycle accident, call (570) 405-9953 for a free consultation with one of our attorneys.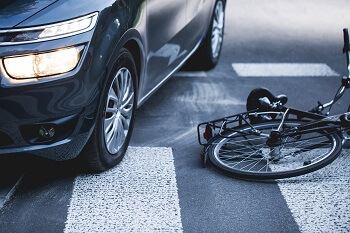 Bicycle Accidents Cause Devastating Injuries
Cyclists have the same legal right to use the roads as drivers of motor vehicles. Unfortunately, many drivers are either unaware of the rules or choose not to follow them.
People on bikes don't have the same protection as those in cars, so they are more likely to suffer severe injuries in the event of an accident. When negligence or recklessness results in an accident that causes injury to the cyclist, the vehicle driver may be held responsible.
What Are the Most Common Causes of Bike Accidents?
Some of the common causes of bike accidents include:
A car cutting off a cyclist
Rear-end collisions
A car turning in front of a bicycle
Doors opening from parked cars
A driver running a red light or stop sign
A defective bike
Roads in poor condition
Animal attacks
How Is Liability Determined in a Bike Accident?
The party responsible for a bike accident depends on the situation. For example, a driver may be held liable for unsafe or careless driving.
In other situations, a dog's owner, a bicycle manufacturer, or a government agency may be held liable for injuries caused in an accident. Our Luzerne County bicycle accident attorneys can evaluate your situation to determine liability.
Don't Negotiate With the Insurance Company Alone
You shouldn't be surprised if the insurance company contacts you to offer a settlement for your injuries.
You also shouldn't speak to the insurance company or accept a settlement without speaking to an attorney because you may be leaving yourself unprotected and later find that the settlement is not enough to meet your financial needs.
Our lawyers can look out for your best interests and protect your rights.
Give us a call today at (570) 405-9953 to discuss your situation with an attorney.
Client Testimonials
Real People. Real Experiences.
"Did a great job."

Used their service, and Attorney Baranko did a great job.

- Cheryl M.

"Excellent, very professional!"

Excellent, very professional!

- Johana A.

"Top-notch legal services!"

Top-notch legal services. None better.

- Peter W.
Why Choose Our Firm?
Aggressive Advocates Who Are Solution Oriented
Born & Raised in the Community

Free Injury Consultations