LUZERNE COUNTY Slip and Fall Attorneys
Slip and Fall Claims
Every year, thousands of people are injured in slip and fall accidents. The Luzerne County slip and fall lawyers at Slusser Law Firm have handled numerous premises liability cases with skill and compassion for our injured clients. You can rely on us to effectively fight for the full and fair compensation you are owed. We handle cases across Eastern Pennsylvania.
Holding Negligent Property Owners Accountable in Schuylkill & Carbon Counties
We offer free consultations, so you can get the legal advice you need. Please call (570) 405-9953to schedule an appointment.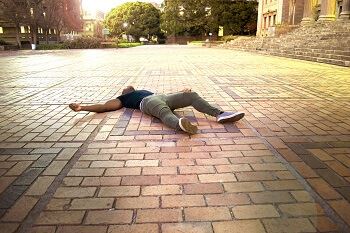 Proving Liability in Slip & Fall Cases
Although slip and fall cases may seem clear, proving liability can be much more complicated than you would expect. The property owner and the injured person can both have varying degrees of responsibility for injuries sustained in a fall. Property owners are responsible for keeping their properties safe. However, each person also has a responsibility to watch where he or she is going.
Important factors in premises liability cases include:
The reason that you were on the property
If the owner knew or should have known that the dangerous condition existed
How long the dangerous condition existed
Hidden ownership entities
What to Do After a Slip and Fall Accident
There are a few things you should do after an injury. Ideally, an accident report should be completed with relevant information and any witnesses to the incident. You should also:
Collect the names and contact information of any witnesses
Document the scene
Take pictures.
If you were injured on someone else's property due to a dangerous condition, it is important to contact an experienced attorney to advise you of your legal options.
Should I Get a Lawyer for My Slip and Fall Claim?
While a slip and fall claim may seem fairly straightforward, you may want to consider hiring a lawyer to represent you for the following reasons:
You may be facing a legal team on the other side if your accident occurred at a business or public building; having a lawyer can help ensure that you are evenly matched as far as legal experience is concerned
A lawyer can help you establish fault in the accident; we can help investigate the scene of the accident and secure evidence that the slip and fall really was a result of someone else's negligence
We can help you navigate the injury claim and court process
A slip and fall lawyer can help you get the settlement that you deserve; don't risk getting less compensation than you need to cover your expenses, let us fight for you!
Slip and Fall Statute of Limitations
Pennsylvania has a two-year statute of limitations for filing personal injury claims, and the statute of limitations may be shorter for injuries on public property. For this reason, you should not wait to contact an attorney.
Our slip and fall attorneys in Luzerne County can provide an accurate assessment of your claim and deal with the property owner and insurance carriers to help you pursue maximum compensation for your injuries.
If you were injured on another person's property, please call (570) 405-9953to discuss your casewith an attorney.
Client Testimonials
Real People. Real Experiences.
"Did a great job."

Used their service, and Attorney Baranko did a great job.

- Cheryl M.

"Excellent, very professional!"

Excellent, very professional!

- Johana A.

"Top-notch legal services!"

Top-notch legal services. None better.

- Peter W.
Why Choose Our Firm?
Aggressive Advocates Who Are Solution Oriented
Born & Raised in the Community

Free Injury Consultations